I have to give a shout-out to my friend, Kara, the creator of the rapidly growing
Kailo Chic
. Kara is an incredibly creative and highly talented woman who hand-makes purses, wallets, jewelry, and some clothing. The first time I went over to her website I about died lookinbg at ALL the cute stuff she has on there.
For several years (ever since my friend bought a fake version of it) I've been eyeing the
Gucci waist pouch
. I realize that it's basically a glorified fanny pack, but it's a very cute one and just seems like it would be so functional! But I'm not really a designer girl and don't want to give off that image (especially out here in Cali where *everyone* has Gucci/Coach/Burberry everything). I recently asked Kara about making me a similar bag and she came through within a week or so with this: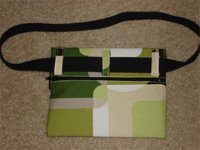 I got it in the mail this past week and have already used it so many times. I LOVE it. Anyway, definitely go check out her site and look through her stuff. It's all absolutely adorable, and if you want her to custom-make you something just shoot her an email at
karajade@kailochic.com
.